Gigiàt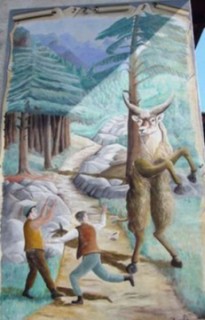 The overgrown being, a hairy hybrid of chamois and ibex with a big head, big horns, claws on front pair of legs ad hooves on back ones lives in valleys of Lombardian Alps. An awesome jumper, what can manage even the widest valley by a couple of jumps. Sometimes morose, sometimes kind; we heard a story where gigiat saved a climber helplessly hanging on the wall, as well as mentions of its diet: it isn't a strict herbivore, and it occasionally fills in the necessary amount of protein by eating heedless tourists.
Illustration comes from http://www.saliinvetta.com/culture-e-tradizioni/2206-il-gigiat-leggendario-animale-della-val-masino, CC BY-SA 4.0, via Wikimedia Commons
2.1.2021 (2.4.2017)
---
Čierna Katarína (Black Katarina)
The ghost of a sad girl wandering on a full moon through Budatín Castle (Žilina, Slovakia). She laments her unhappy love, as is common for this type of apparition.
She was sixteen and fell in love with the young nobleman František Forgáč of Tekov. However, her father chose a much older Jakušič of Vršatka for her, which the young girl did not intend to accept, she insisted on her choice. That was a problem in those times – the traditional family and so on, parents always know what's good, you know it.
Katarína spent a month walled up in the tower, getting out alive when she promised to marry the older nobleman and forget about the young one. She did not forget. After a while, the husband figured it out, had the lover murdered, the wife then died from longing.
5. 2. 2021 (8.12.2019)
---
Lesní střelec (The Forest Gunner)
In the ghost hour, a Lesní střelec (The Forest Gunner) used to appear at Rotava near Sokolov, Bohemia. He chased poachers, drove his dogs, and pounded on trees. Like many similar forest spirits, he was mischievous and liked to harm without cause. According to the record of J.V. Grohmann, for example, he turned one man into a tree stump; the unfortunate person was freed by a charcoal burner, who inadvertently cut into the stump with a knife.
3.3.2021 (1.5.2010)
---
Hořící košťata (Burning Brooms)
A phenomenon observed by people at a crossroads near Chraštice near Příbram, Bohemia. Accordingly to common knowledge, these fiery apparitions are said to have been the souls of sinners.
3.3.2021 (15.12.2008)
---
Biloko
With grass-like hair, a really big mouth, and equipped with dangerously overgrowth claws, this Bantu goblin usually hides in the hollow of a tree, from where he likes to jump on unsuspecting passers-by. At least that's what the Nkunda people from the current Democratic Republic of Congo, formerly Zaire, tell.
3.4.2021 (21.2.2016)
---
Me'mdeye-Eci'e
The Siberian Yukagirs love their elemental of fire, which they call Me'mdeye-Eci'e. It is a spirit worthy and friendly. It lives far to the east, which is a natural address because fire and the Sun have much in common. When we mention the connection between the spirit of fire and this celestial object, we should also recall that Me'mdeye-Eci'e is a producer of aurora borealis too. Northern lights — as the Yukagirs know — are one of the few ways a living person can use to get to Heaven.
4.5.2021 (17.5.2015)
---
Tisovec
Origin of this headless bogeyman, who acted at Solnice near Rychnov nad Kněžnou, eastern Bohemia, is unsure. Some people believe he is a ghost of Jindřich, a former owner of the village, who is condemned to raise from his grave, and ride a fiery horse along the Bělá river twice a year. Others bet on the late brewmaster of Solnice brewery, whose head had to be removed to prevent the brewer's yeast from continuing to rise from his grave.
30.5.2021 (28.8.2016)
---
Matelda
In the province of Arezzo, an old castle of the Guidi family rises above the village of Poppi, easily recognizable by its dominant tower. The tower is called Torre dei diavoli, the Devil's Tower. However, it was not Old Nick himself who worked here, but the lady who was fully comparable with him.
Every European country had a cruel noblewoman, whose treatment of subjects had exceeded limits and had come to court. The most popular, at least in Central Europe, is probably Elisabeth Bathory, but – for example, the Czech lands also had one such exemplary case, Kateřina of Komárov, the wife of the Karlštejn burgrave Jan Bechyně of Lažany.
It was the beautiful Matelda in Tuscany.
I don't know if she abused the servants, but it is certain that she was very – how to say it politely if children came here – sexually unsatisfied (explain it to them yourself) and consumed a considerable number of lovers. To keep this fact a secret, she behaved like a female praying mantis. Thus, nature commands the poor insects, Matelda acted of her own free will – she killed every man after the act (or after dinner). When it became strange to the women of Poppi and the surrounding area, how the number of suitable partners mysteriously decreased, they intervened – the result was the walling of Matelda in the tower.
Back to the beginning of the narrative and its reason.
After her death, Matelda began to haunt the castle and its surroundings. And she has done her scary duty to this day, as well as another ghost of Poppi Castle, a lingering memory of the cruel fights near the castle, the sound of battle (sic!) that can be heard in the courtyard. Some people say Matelda is still looking for men at night, so be careful.
9.6.2021 (9.2.2014)
---
Trivia
Roman Trivia was the goddess of witchcraft, graveyards and crossroads; probably due to the usual Roman literalism she haunted real crossroads, although originally they were crossroads of Fate. Thus, summed up in a single sentence, it would seem that she was merely the Roman counterpart of the Greek Hecate, which may be true on the one hand, but on the other may be hiding a domestic deity. But so perfectly that not much remains of it.
28.6.2021 (19.2.2011)
---
Lada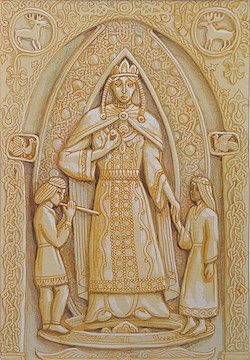 Otherwise also Kolada. Slavic goddess with a mandate for beauty and love and fertility. Wife of Svantovít.
Or is she not?
There are no records of the existence of this entity except folklore. And folklore is a tricky resource when it comes to examining indigenous religions or mythological systems, as it readily absorbs modern and fashionable influences, including those that are purposefully invented.
Lada, as we have already noted, was/may have been the goddess of love and fertility, the obligatory counterpart of the Roman Venus. Medieval scholars and the first modern mythologists and enthusiasts straightened out the religious structures of all European cultures on the basis of that pantheon; sometimes it was a good comparative tool, sometimes a big step in the wrong direction. In the case of the hypothetical goddess, who was also lured to the resort of entertainment, the clues suggest an existence primarily in song. In these, as a name or a mere rhythmic word, she appears in many Slav-populated areas, from the south to the east. From these, and from the fact that they are often wedding chants, scholars have inferred the function mentioned, to which, in recent years, which have marked a certain rehabilitation for Lada, they have added the theory of a goddess of marriage and merriment.
There is also, actually there was, well, we don't really know if he really worked in his capacity and where he actually came from, also a Lada (Lado) of the masculine gender. According to the Polish chronicler Dlugosz and a few mentions from the East, he may have been a war god, but the truth is that the Slavs did not occupy this office of god on a full-time basis. The success of military campaigns was usually ensured by the head of the pantheon. Or a god who was just in favour.
The origin of Lada is also attributed to the Lithuanians, from whom the neighbouring Slavs may have adopted the goddess. Either including the name, or with a slight modification of the title and function: as Dimitri Šepping claimed, among the Balts it was originally the goddess of fate, Laima.
Ilustration: Max presnyakov, CC BY-SA 3.0, via Wikimedia Commons
1.7.2021 (9.11.2014)
---
Barbmo-Akka
Saami goddess, whose specialty is the supervision of migratory birds, or their routes of movement. Which means she is an important person of the calendar cycle because the migration of these flying descendants of dinosaurs announces the changing of the seasons.
26.7.2021 (25.7.2021)
---
Kočičí sněm (The Cat Convention)
I have a feeling that the cat conventions held on summer nights in our street are a well-thought-out revenge for the half-empty bowls and a dog in every garden. But I shall leave the urban cats to Mr. Pratchett with respect, and prefer to dwell on the magical ones.
The social entertainment, called a Kočičí sněm (a cat convention), takes place mostly in the ruins of abandoned castles. It is even so popularised by collectors of fairy tales and creators of new children's stories that it is not even considered a folk tradition. Some original sources have survived in South Bohemia, but in general, it is at least a Central European phenomenon.
We have information about it mostly from musicians returning from village dances. Such a piper or fiddler, well aware of the dangers of the forest at night – beware of the woodland fairies! – ...he'd rather take a nap in a deserted ruin. And when he opened his eyes after midnight, he found that it was not deserted at all, on the contrary – full of talking cats. debating, dancing, enjoying themselves.
If he worked up the courage to come out of hiding or was discovered by the cats, the musician had to play a few pieces to dance to - usually he was royally rewarded by tree leaves in the morning, which he threw away, and was surprised at home to find the forgotten leaves turned into gold. If he didn't have the courage, he could only observe everything from a distance, and then at home, he had a hard time explaining where he had been overnight.
In many legends, the cat convention is led by – or has a wonderful time at – the cat belonging to the casual observer.
3.8.2021 (22.2. 2004)
---
Hojman
He was operating around the Bohemian Forest town of Mutěnín, shouting A-hoy, a-hoy at deep night. But he wasn't a sailor, just another member of the haunting forest community. His modus operandi was simple and traditional – he chased whoever answered him, and when he caught up with him, he jumped down his neck.
26.8.2021 (21.5.2006)
---
Vzehlehel and Hlehlehel
No, it's not a tongue twister, we're not set up for those here, of course. We are here for supernatural beings, and that's where this pair belongs. You can find them at Skála Castle near Přeštice in West Bohemia. Skála is sometimes called the Dark Castle, and not without reason, it's haunted by more than these two, but Hlehlehel, as the guardian spirit, deserves to be introduced first. Followed, of course, by his friend Vzehlehel. Not much is known about their appearance, for both of them change shape, sometimes as dwarves with high hats, sometimes as priests or bears.
When during the Hussite wars a certain Bárta betrayed the castle to the enemy, Jan Žižka wanted to skin him, but Hlehlehel decided that punishment of a traitor belonged to his competence and kidnapped the convict. He cursed him into the castle dungeon, where Bárta's spirit, unlike the ancient Greek Tantalus, who was prescribed eternal thirst, must drink beer. One by one, he only gets relief from his sentence two days a year. On Shrovetide, when he's allowed to go out. He walks around the ruins, holding a bucket and calling out: Drink, drink, drink. On Passiontide, he lies down on the path under the castle. Beware – whoever crosses him over will die within a year.
On Shrovetide, a White lady with a Black dog accompanies him on his walk and throws stones at him. It's not a punishment because the white lady is another of the local ghosts. She was the daughter of a castle lord who was cursed by a lovestruck gamekeeper, so it seems to be mere bullying.
Bárta's punishment will last as long as the beer in the castle cellar.
9. 9. 2021 (12.1.2003)
---
Psoglav
It lives in dark caves, supposedly full of gems, but it is not recommended to go treasure collecting. Not that it dwell too far away, Serbian legends claim that Psoglav's territory is Bosnia and Montenegro, Croatians, who call it Psoglavac talk about Istria, this is not a problem. It is Psoglav himself.
The monster with horse legs, a dog's head, a mouth full of sharp iron teeth, and one eye in the middle of its forehead is on a human diet. Its eating habit goes so far that if Psoglav doesn't catch a man alive, it digs a dead body out of the grave. The rumor that accompanied this dangerous creature used to be really strong: when the Ottoman army once arrived in Slovenia, invaders were considered Psoglavs. Whether people really believed at the time that cannibals were approaching, or whether they used a term that was readily offered, in any case, it clearly speaks of the relationship and feeling that people had for the named monster.
6. 10. 2021 (14.9.2014)
---