Gigiàt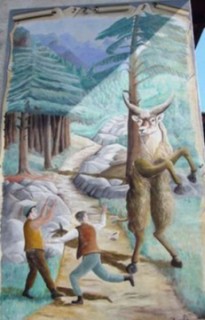 The overgrown being, a hairy hybrid of chamois and ibex with a big head, big horns, claws on front pair of legs ad hooves on back ones lives in valleys of Lombardian Alps. An awesome jumper, what can manage even the widest valley by a couple of jumps. Sometimes morose, sometimes kind; we heard a story where gigiat saved a climber helplessly hanging on the wall, as well as mentions of its diet: it isn't a strict herbivore, and it occasionally fills in the necessary amount of protein by eating heedless tourists.
Illustration comes from http://www.saliinvetta.com/culture-e-tradizioni/2206-il-gigiat-leggendario-animale-della-val-masino, CC BY-SA 4.0, via Wikimedia Commons
2.1.2020 (2.4.2017)
---
Čierna Katarína (Black Katarina)
The ghost of a sad girl wandering on a full moon through Budatín Castle (Žilina, Slovakia). She laments her unhappy love, as is common for this type of apparition.
She was sixteen and fell in love with the young nobleman František Forgáč of Tekov. However, her father chose a much older Jakušič of Vršatka for her, which the young girl did not intend to accept, she insisted on her choice. That was a problem in those times – the traditional family and so on, parents always know what's good, you know it.
Katarína spent a month walled up in the tower, getting out alive when she promised to marry the older nobleman and forget about the young one. She did not forget. After a while, the husband figured it out, had the lover murdered, the wife then died from longing.
5. 2. 2021 (8.12.2019)
---
Lesní střelec (The Forest Gunner)
In the ghost hour, a Lesní střelec (The Forest Gunner) used to appear at Rotava near Sokolov, Bohemia. He chased poachers, drove his dogs, and pounded on trees. Like many similar forest spirits, he was mischievous and liked to harm without cause. According to the record of J.V. Grohmann, for example, he turned one man into a tree stump; the unfortunate person was freed by a charcoal burner, who inadvertently cut into the stump with a knife.
3.3.2021 (1.5.2010)
---
Hořící košťata (Burning Brooms)
A phenomenon observed by people at a crossroads near Chraštice near Příbram, Bohemia. Accordingly to common knowledge, these fiery apparitions are said to have been the souls of sinners.
3.3.2021 (15.12.2008)
---
Biloko
With grass-like hair, a really big mouth, and equipped with dangerously overgrowth claws, this Bantu goblin usually hides in the hollow of a tree, from where he likes to jump on unsuspecting passers-by. At least that's what the Nkunda people from the current Democratic Republic of Congo, formerly Zaire, tell.
3.4.2021 (21.2.2016)
---
Me'mdeye-Eci'e
The Siberian Yukagirs love their elemental of fire, which they call Me'mdeye-Eci'e. It is a spirit worthy and friendly. It lives far to the east, which is a natural address because fire and the Sun have much in common. When we mention the connection between the spirit of fire and this celestial object, we should also recall that Me'mdeye-Eci'e is a producer of aurora borealis too. Northern lights — as the Yukagirs know — are one of the few ways a living person can use to get to Heaven.
4.5.2021 (17.5.2015)
---
Tisovec
Origin of this headless bogeyman, who acted at Solnice near Rychnov nad Kněžnou, eastern Bohemia, is unsure. Some people believe he is a ghost of Jindřich, a former owner of the village, who is condemned to raise from his grave, and ride a fiery horse along the Bělá river twice a year. Others bet on the late brewmaster of Solnice brewery, whose head had to be removed to prevent the brewer's yeast from continuing to rise from his grave.
30.5.2021 (28.8.2016)
---
Matelda
In the province of Arezzo, an old castle of the Guidi family rises above the village of Poppi, easily recognizable by its dominant tower. The tower is called Torre dei diavoli, the Devil's Tower. However, it was not Old Nick himself who worked here, but the lady who was fully comparable with him.
Every European country had a cruel noblewoman, whose treatment of subjects had exceeded limits and had come to court. The most popular, at least in Central Europe, is probably Elisabeth Bathory, but – for example, the Czech lands also had one such exemplary case, Kateřina of Komárov, the wife of the Karlštejn burgrave Jan Bechyně of Lažany.
It was the beautiful Matelda in Tuscany.
I don't know if she abused the servants, but it is certain that she was very – how to say it politely if children came here – sexually unsatisfied (explain it to them yourself) and consumed a considerable number of lovers. To keep this fact a secret, she behaved like a female praying mantis. Thus, nature commands the poor insects, Matelda acted of her own free will – she killed every man after the act (or after dinner). When it became strange to the women of Poppi and the surrounding area, how the number of suitable partners mysteriously decreased, they intervened – the result was the walling of Matelda in the tower.
Back to the beginning of the narrative and its reason.
After her death, Matelda began to haunt the castle and its surroundings. And she has done her scary duty to this day, as well as another ghost of Poppi Castle, a lingering memory of the cruel fights near the castle, the sound of battle (sic!) that can be heard in the courtyard. Some people say Matelda is still looking for men at night, so be careful.
9.6.2021 (9.2.2014)
---