Gigiàt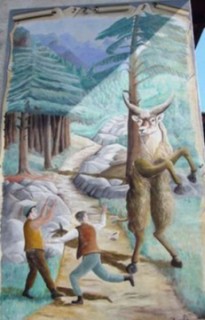 The overgrown being, a hairy hybrid of chamois and ibex with a big head, big horns, claws on the front pair of legs ad hooves on the back ones lives in the valleys of the Lombardian Alps. An awesome jumper, who can manage even the widest valley with a couple of jumps. Sometimes morose, sometimes kind; we heard a story where gigiat saved a climber helplessly hanging on the wall, as well as mentions of its diet: it isn't a strict herbivore, and it occasionally fills in the necessary amount of protein by eating heedless tourists.
Illustration comes from http://www.saliinvetta.com/culture-e-tradizioni/2206-il-gigiat-leggendario-animale-della-val-masino, CC BY-SA 4.0, via Wikimedia Commons
2.1.2021 (2.4.2017)
Čierna Katarína (Black Katarina)
The ghost of a sad girl wandering on a full moon through Budatín Castle (Žilina, Slovakia). She laments her unhappy love, as is common for this type of apparition.
She was sixteen and fell in love with the young nobleman František Forgáč of Tekov. However, her father chose a much older Jakušič of Vršatka for her, which the young girl did not intend to accept, she insisted on her choice. That was a problem in those times – the traditional family and so on, parents always know what's good, you know it.
Katarína spent a month walled up in the tower, getting out alive when she promised to marry the older nobleman and forget about the young one. She did not forget. After a while, the husband figured it out, had the lover murdered, and the wife then died from longing.
5. 2. 2021 (8.12.2019)
Lesní střelec (The Forest Gunner)
In the ghost hour, a Lesní střelec (The Forest Gunner) used to appear at Rotava near Sokolov, Bohemia. He chased poachers, drove his dogs, and pounded on trees. Like many similar forest spirits, he was mischievous and liked to harm without cause. According to the record of J.V. Grohmann, for example, he turned one man into a tree stump; the unfortunate person was freed by a charcoal burner, who inadvertently cut into the stump with a knife.
3.3.2021 (1.5.2010)
Hořící košťata (Burning Brooms)
A phenomenon observed by people at a crossroads near Chraštice near Příbram, Bohemia. Accordingly to common knowledge, these fiery apparitions are said to have been the souls of sinners.
3.3.2021 (15.12.2008)
Biloko
With grass-like hair, a really big mouth, and equipped with dangerously overgrowth claws, this Bantu goblin usually hides in the hollow of a tree, from where he likes to jump on unsuspecting passers-by. At least that's what the Nkunda people from the current Democratic Republic of Congo, formerly Zaire, tell.
3.4.2021 (21.2.2016)
Me'mdeye-Eci'e
The Siberian Yukagirs love their elemental of fire, which they call Me'mdeye-Eci'e. It is a spirit worthy and friendly. It lives far to the east, which is a natural address because fire and the Sun have much in common. When we mention the connection between the spirit of fire and this celestial object, we should also recall that Me'mdeye-Eci'e is a producer of aurora borealis too. Northern lights — as the Yukagirs know — are one of the few ways a living person can use to get to Heaven.
4.5.2021 (17.5.2015)
Tisovec
Origin of this headless bogeyman, who acted at Solnice near Rychnov nad Kněžnou, eastern Bohemia, is unsure. Some people believe he is a ghost of Jindřich, a former owner of the village, who is condemned to raise from his grave, and ride a fiery horse along the Bělá river twice a year. Others bet on the late brewmaster of Solnice brewery, whose head had to be removed to prevent the brewer's yeast from continuing to rise from his grave.
30.5.2021 (28.8.2016)
Matelda
In the province of Arezzo, an old castle of the Guidi family rises above the village of Poppi, easily recognizable by its dominant tower. The tower is called Torre dei diavoli, the Devil's Tower. However, it was not Old Nick himself who worked here, but the lady who was fully comparable with him.
Every European country had a cruel noblewoman, whose treatment of subjects had exceeded limits and had come to court. The most popular, at least in Central Europe, is probably Elisabeth Bathory, but – for example, the Czech lands also had one such exemplary case, Kateřina of Komárov, the wife of the Karlštejn burgrave Jan Bechyně of Lažany.
It was the beautiful Matelda in Tuscany.
I don't know if she abused the servants, but it is certain that she was very – how to say it politely if children came here – sexually unsatisfied (explain it to them yourself) and consumed a considerable number of lovers. To keep this fact a secret, she behaved like a female praying mantis. Thus, nature commands the poor insects, Matelda acted of her own free will – she killed every man after the act (or after dinner). When it became strange to the women of Poppi and the surrounding area, how the number of suitable partners mysteriously decreased, they intervened – the result was the walling of Matelda in the tower.
Back to the beginning of the narrative and its reason.
After her death, Matelda began to haunt the castle and its surroundings. And she has done her scary duty to this day, as well as another ghost of Poppi Castle, a lingering memory of the cruel fights near the castle, the sound of battle (sic!) that can be heard in the courtyard. Some people say Matelda is still looking for men at night, so be careful.
9.6.2021 (9.2.2014)
Trivia
Roman Trivia was the goddess of witchcraft, graveyards and crossroads; probably due to the usual Roman literalism she haunted real crossroads, although originally they were crossroads of Fate. Thus, summed up in a single sentence, it would seem that she was merely the Roman counterpart of the Greek Hecate, which may be true on the one hand, but on the other may be hiding a domestic deity. But so perfectly that not much remains of it.
28.6.2021 (19.2.2011)
Lada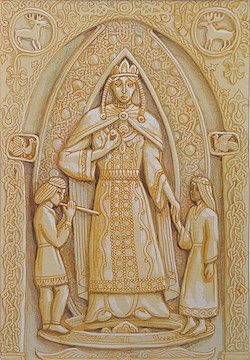 Otherwise also Kolada. Slavic goddess with a mandate for beauty and love and fertility. Wife of Svantovít.
Or is she not?
There are no records of the existence of this entity except folklore. And folklore is a tricky resource when it comes to examining indigenous religions or mythological systems, as it readily absorbs modern and fashionable influences, including those that are purposefully invented.
Lada, as we have already noted, was/may have been the goddess of love and fertility, the obligatory counterpart of the Roman Venus. Medieval scholars and the first modern mythologists and enthusiasts straightened out the religious structures of all European cultures on the basis of that pantheon; sometimes it was a good comparative tool, sometimes a big step in the wrong direction. In the case of the hypothetical goddess, who was also lured to the resort of entertainment, the clues suggest an existence primarily in song. In these, as a name or a mere rhythmic word, she appears in many Slav-populated areas, from the south to the east. From these, and from the fact that they are often wedding chants, scholars have inferred the function mentioned, to which, in recent years, which have marked a certain rehabilitation for Lada, they have added the theory of a goddess of marriage and merriment.
There is also, actually there was, well, we don't really know if he really worked in his capacity and where he actually came from, also a Lada (Lado) of the masculine gender. According to the Polish chronicler Dlugosz and a few mentions from the East, he may have been a war god, but the truth is that the Slavs did not occupy this office of god on a full-time basis. The success of military campaigns was usually ensured by the head of the pantheon. Or a god who was just in favour.
The origin of Lada is also attributed to the Lithuanians, from whom the neighbouring Slavs may have adopted the goddess. Either including the name, or with a slight modification of the title and function: as Dimitri Šepping claimed, among the Balts it was originally the goddess of fate, Laima.
Ilustration: Max presnyakov, CC BY-SA 3.0, via Wikimedia Commons
1.7.2021 (9.11.2014)
Barbmo-Akka
Saami goddess, whose specialty is the supervision of migratory birds, or their routes of movement. Which means she is an important person of the calendar cycle because the migration of these flying descendants of dinosaurs announces the changing of the seasons.
26.7.2021 (25.7.2021)
Kočičí sněm (The Cat Convention)
I have a feeling that the cat conventions held on summer nights in our street are a well-thought-out revenge for the half-empty bowls and a dog in every garden. But I shall leave the urban cats to Mr. Pratchett with respect, and prefer to dwell on the magical ones.
The social entertainment, called a Kočičí sněm (a cat convention), takes place mostly in the ruins of abandoned castles. It is even so popularised by collectors of fairy tales and creators of new children's stories that it is not even considered a folk tradition. Some original sources have survived in South Bohemia, but in general, it is at least a Central European phenomenon.
We have information about it mostly from musicians returning from village dances. Such a piper or fiddler, well aware of the dangers of the forest at night – beware of the woodland fairies! – ...he'd rather take a nap in a deserted ruin. And when he opened his eyes after midnight, he found that it was not deserted at all, on the contrary – full of talking cats. debating, dancing, enjoying themselves.
If he worked up the courage to come out of hiding or was discovered by the cats, the musician had to play a few pieces to dance to - usually he was royally rewarded by tree leaves in the morning, which he threw away, and was surprised at home to find the forgotten leaves turned into gold. If he didn't have the courage, he could only observe everything from a distance, and then at home, he had a hard time explaining where he had been overnight.
In many legends, the cat convention is led by – or has a wonderful time at – the cat belonging to the casual observer.
3.8.2021 (22.2. 2004)
Hojman
He was operating around the Bohemian Forest town of Mutěnín, shouting A-hoy, a-hoy at deep night. But he wasn't a sailor, just another member of the haunting forest community. His modus operandi was simple and traditional – he chased whoever answered him, and when he caught up with him, he jumped down his neck.
26.8.2021 (21.5.2006)
Vzehlehel and Hlehlehel
No, it's not a tongue twister, we're not set up for those here, of course. We are here for supernatural beings, and that's where this pair belongs. You can find them at Skála Castle near Přeštice in West Bohemia. Skála is sometimes called the Dark Castle, and not without reason, it's haunted by more than these two, but Hlehlehel, as the guardian spirit, deserves to be introduced first. Followed, of course, by his friend Vzehlehel. Not much is known about their appearance, for both of them change shape, sometimes as dwarves with high hats, sometimes as priests or bears.
When during the Hussite wars a certain Bárta betrayed the castle to the enemy, Jan Žižka wanted to skin him, but Hlehlehel decided that punishment of a traitor belonged to his competence and kidnapped the convict. He cursed him into the castle dungeon, where Bárta's spirit, unlike the ancient Greek Tantalus, who was prescribed eternal thirst, must drink beer. One by one, he only gets relief from his sentence two days a year. On Shrovetide, when he's allowed to go out. He walks around the ruins, holding a bucket and calling out: Drink, drink, drink. On Passiontide, he lies down on the path under the castle. Beware – whoever crosses him over will die within a year.
On Shrovetide, a White lady with a Black dog accompanies him on his walk and throws stones at him. It's not a punishment because the white lady is another of the local ghosts. She was the daughter of a castle lord who was cursed by a lovestruck gamekeeper, so it seems to be mere bullying.
Bárta's punishment will last as long as the beer in the castle cellar.
9. 9. 2021 (12.1.2003)
Psoglav
It lives in dark caves, supposedly full of gems, but it is not recommended to go treasure collecting. Not that it dwell too far away, Serbian legends claim that Psoglav's territory is Bosnia and Montenegro, Croatians, who call it Psoglavac talk about Istria, this is not a problem. It is Psoglav himself.
The monster with horse legs, a dog's head, a mouth full of sharp iron teeth, and one eye in the middle of its forehead is on a human diet. Its eating habit goes so far that if Psoglav doesn't catch a man alive, it digs a dead body out of the grave. The rumor that accompanied this dangerous creature used to be really strong: when the Ottoman army once arrived in Slovenia, invaders were considered Psoglavs. Whether people really believed at the time that cannibals were approaching, or whether they used a term that was readily offered, in any case, it clearly speaks of the relationship and feeling that people had for the named monster.
6. 10. 2021 (14.9.2014)
Frau Wachholder
A German dryad whose tree has already been revealed to the reader who speaks that language. Yes, she belongs to the juniper tree, the source of juniper berries and, through them, of gin and genever, as well as to drinks less well known or unexpected, such as Finnish beer. Alcohol, however, has nothing to do with Frau Wachholder; this fairy tends to be an ally of the robbed, who, with her help, try to get the thief to return the loot voluntarily. This is supposed to happen after the victim of the crime has weighted down one of the lower branches of a juniper tree by a stone; this cypress shrub is well known in folk magic in its own right, the branches were used to protect cattle and people against disease.
4. 11. 2021 (15.5.2016)
Režnej Kuba
Režnej Kuba (Gray Jake) was a local ghost, operating in Pečky, Bohemia, in a place called V Babinách. He was targeting nighttime visitors who went there cut grass. No sooner had they set foot on the meadow than they had the Režný Kuba in a sheet that they used for gathering grass and they couldn't move it.
3. 12. 2021 (24.10.2004)
Graf Hardegg
The Headless Count of Hardegg does not haunt the ancestral castle of Hardegg, but the corridors of Riegersburg Castle. The two places are not far apart, for it is not Riegersburg Castle in Styria, but a newer building of the same name in a town on the border between Austria and the Czech Republic. He was beheaded in 1595 by a court ruling that discussed his (alleged) treason in fighting the Turks. The real cause may have been the Protestantism of Hardegg family.
His headless existence (and the existence of a walking invisible body) was recorded several times. As well as the beds, in which someone was quite obviously slept, although the common trap made of spilled flour did not detect anything.
7. 1. 2022 (23.6.2013)
Fati
By the time you finish this paragraph, it will be clear where this Albanian fairy got her name and how she came to the south of the rocky Balkan country. Small, butterfly-riding, extremely powerful and extremely beautiful creatures appear in trios in the first three days of a human life to determine the child's destiny.
7. 1. 2022 (24.11.2013)
Perit
Another Albanian miniature beauties. Mountain fairies dressed in white. Kind. Until they catch someone wasting bread. The offender is then punished with a hump.
7. 1. 2022 (24.11.2013)
Egres
A personified turnip, otherwise a Finnish god, especially established in Karelia, responsible for fertility and vegetation. Sometimes referred to as Akras.
7. 1. 2022 (8.12.2013)
Hockhaufs
Spooks, appearing in the forests of Czech southern border, in the Bohemian Forest as well as near Mikulov. There, in the East, they are also known as Kožíškoví mužíci (The Fur men), while on the other side they are sometimes called Škrtiči (The Stranglers). The South Bohemian term reveals the modus operandi of the white-hooded goblins, who would ambush people and jump on their backs (from that comes their German name) and strangle them until they suffocated.
7.2.2022 (15.12.2008)
Karas
On the border between Czech towns Kostelec and Doudleby nad Orlicí, at the place where the cross named after him stood, Karas was walking around the field at noon. Antonie Šedivá from Kostelec concluded that if his ghost was haunting, he must has been a bad man. However, it was also said – as Františka Čechová told in 1845 – that he was the grandfather of old Karas from her village, and he had moved landmarks during his lifetime. However, Mrs. Hesova's mother herself witnessed the haunting. It was behind her back, so she preferred not to look back. Mr. Hes, to whom she brought lunch, saw nothing, but you know ghosts... That's why people avoided Karas' cross after dark and walked the other way.
2.3.2022 (17.12.2017)
Hercinia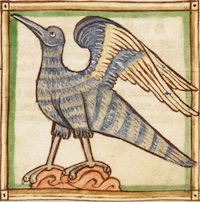 Already Pliny the Elder, in chapter XLVII of the tenth volume of his Naturalis Historia, devoted to zoology, mentions a special feathered creature living in Germania, more precisely in the Hercynian forest. He honestly mentions that he has only heard of it, yet he mentions it, along with other, from his point of view rather strange birds. It is said to be a creature whose feathers glow at night.
Pliny's work has long been regarded as a perfect encyclopaedia of the sciences, so the presence of its contents in writings several centuries younger is not strange. The next entry, in which the bird has already been given a name according to its geographical distribution – Hercinia – comes from another great encyclopaedia of the time, Origines sive Etymologiae by Bishop Isidore of Seville. In the twelfth book, De Animalibvs (i.e., again zoological), it says:
"Hercyniae aves dictae ab Hercynio saltu Germaniae, ubi nascuntur, quarum pinnae adeo per obscurum emicant ut quamvis nox obtenta densis tenebris sit, ad praesidium itineris dirigendi praeiactae interluceant, cursusque viae pateat indicio plumarum fulgentium."
A brief translation (added to the already known: In Germania, in the forest of Hercynia, lives a strange bird...): Feathers, giving off light, can be used in a pilgrimage through this dark territory.
Hercinia: See page for author [Public domain], via Wikimedia Commons
2.3.2022 (28.5.2017)
Pikkepoot
A water demon, employed by parents in the vicinity of Utrecht in the Netherlands (reported from the village of Wilnis). In the usual way: Kids, if you run outside late at night, you may be caught and carried away by Pikkepoot, who comes out of the water at that time.
2.3.2022 (30.7.2017)
La Ciguapa
A dark woman with long hair, the only clothing covering her naked body. She appears in the mountains of the Dominican Republic and her encounter is not as pleasant as it might seem at first sight. Once you see the beauty speechless lady with her feet turned backwards, you can be sure that a life is at stake. And also that if you look into her eyes, she'll charm you for whole life.
Which may not be for long.
4.4.2022 (11.3.2018)
Mami-naïmis
The Piapocos, who live at banks of Guaviare River, said that these water demons come out of the water at night and wander about; their cries resemble those of a child.
4.4.2022 (6.5.2018)
Dalgyal guishin
It is no coincidence that this Korean phantom is called the Egg Ghost. It has no arms, no legs, no head, let alone eyes, nose or mouth. It is one of the serious warning apparitions - whoever sees it will soon die. Careful: it may be hiding among real eggs.
4.4.2022 (20.5.2018)
Bildur Aize
Nightmare in Basque way. It behaves just like its relatives from other countries - she intrudes into the dreams of victims and also likes to settle on the sleeper's chest to cause trouble by its weight.
In Goierri, one of the counties in the east of the Basque Country, it is therefore recommended to say three times before going to bed:
Amandere Santanes
Bart Egin det ametz
Edo ty gaitzez
Egin ba-det gaitzez.
Biurr egidazu onez.
They say it helps.
2.5.2022 (16.11.2014)
Strašilo
Strašilo is a Macedonian bogeyman. Common under-the-bed type, but sometimes it lives also in the forest, caves, and cellars, catches naughty children, and gobbles them. As you can see, nothing new under the Sun. Or rather under the Moon.
2.5.2022 (31.8.2014)
Jalpari
Danger lurks everywhere. And water demons perhaps do not live only in the Sahara, and who knows if. In the Indian Punjab, you may come across jalpari, water demonesses who are (as has been happening in folk tales all over the world), eager to enter into a marriage with a mortal. So eagerly that in the hunt for a potential mate, they sometimes just kill this one.
2.5.2022 (24.2.2008)
Ljaltakalbala
Fishing on the banks of rivers in Australia's Northern Territory may not pay off. For there are far more dangerous hunters lurking in the water than those with a rod and a worm on the hook. The name is Aranda and it's an oversized water snake that can gobble up a fisherman like a canapé. At least that's what several modern encyclopedias of supernatural creatures claim. The thing is, however, that the name Aranda belongs to the nation from whose tales the oversized water snake came, while the reptile in question goes by the name Ljaltakalbala.
Lost in translation somewhere, it happens. And sources of information simply must always be approached with caution (this applies to this Bestiary as well, of course).
The reptile came – of course, crawled – into the world from a pool in Emianga, but soon moved south to Kantowala, to the Finke River, where it settled and grew. A lot. Ljaltakalbala did not move from those places until a visit to its aunt (who went to visit her little red-tailed nephew, and who was not of the reptile family but belonged to the bird totem, more precisely to the Willie Wagtails (Rhipidura leucophrys), in whose company the snake then set out on a long pilgrimage, which is still commemorated by local names such as Pmala Ralkaka, in English: Where the Great Serpent Yawned.
Along the way the snake occasionally ate someone (and occasionally someone tried to eat Ljaltakalbala). It could shrink if needed to, but usually stayed safely large. After the many vicissitudes of the long journey, it eventually took on its aunt and her sisters (why, that's out of the story), devouring a dozen of them, only to regurgitate their bodies in a cave found fifty miles west-northwest of Alice Springs, where they, in the form of tjurung, sacred objects, can still be found today. He then hid himself beneath the surface.
6.6.2022 (1.10.2017)
Gogoli
In Albania, parents are scaring their children with two, from a certain point of view, interesting boogeymen.
The first, more widespread species, is the Gogoli, while in the south adults also rely on the Katallani. If the second name reminded you of Catalonia, it was more or less right: it is quite common to transform dangerous adversaries into monsters and ghosts. Like Czech word for a Giant, Obr, might comes from Avars, and english Ogres were Hongrois originally.
 The Albanians once transformed invaders, across the sea from southern Italy, into bogeymen to be feared. Perhaps a reminiscence of the Aragonese expansion in the fifteenth century, the Italians probably have their devil Mazzamauriello from that time too.
Gogoli then are a medieval pan-European nightmare, the Mongols.
6.6.2022 (21.5.2015)