Uwan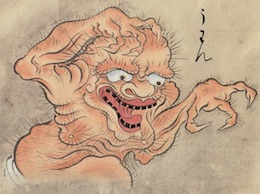 A bodyless voice that scares in abandoned Japanese homes and temples. Passers-by outside hear nothing, but the intruder's hearing is hit by a shrill scream.
Even though it is only an acoustic being, illustrators, such as Sawaki Suushi, have given him the appearance (and hence the body) for his purpose, so I can open this page of the Bestiary with an accompanying illustration from Suushi's Hyakkai-Zukan.  
Illustration by Sawaki Sūshi (佐脇嵩之, Japanase, *1707, †1772)
(scanned from ISBN 978-4-336-04187-6.) [Public domain], via Wikimedia Commons
12.4.2019 (23.9.2018)
---
Hadwabl
She haunted in the woods near Horní Slavkov near Loket, a town in West Bohemia. Once upon a time there was a castle in the forest, and its mistress hid her huge fortune in the dark forest. Later she began to watch its as a ghost. She was scaring away random as well as non-casual visitors. Her other appearance was the form of a little girl in red stockings, with a big key on a red tape and a coffer at her feet.
17.5.2019 (25.4.2010)
---
Hýkavý Martin (Braying Martin)
A figure of common Czech folktale, a one of misers who pushed the milestones at night. Most of them became fire spirits, but somebody ended up like Hýkavý Martin: wandering through the nights, screaming and halking on the back of the mockers. Martin, who haunted near Jankov, a village near Budweis, beside an usual ask: "Where do I give it," brayed like a donkey. Past present in previous sentence is absolutely fine, because once someone has finally advised him ("Where you took it.") and the spirit of the former local harpoon has been freed.
24.5.2019 (1.5.2010)
---
Ještědský duch
Ještědský duch (Jeschkengeist) is a genius loci of Ještěd Mountain in northern Bohemia. He used to be seen in the form of a great mountaineer with a hat and beard.
As the mountain is a place of many legends, Ještědský duch was not the only supernatural inhabitant of the region. The company read a number of revelations: elves, guarding gold and silver veins; a ghostly hunter, chasing a deer with a golden cross between antlers; occasional Wild Hunt; as well as annual Witches' Sabbath.
3.6.2019 (1.5.2010)
---
Zashiki-warashi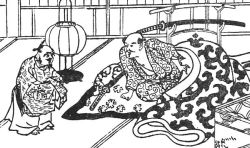 Even Japanese employ household gnomes. Zashiki-warashi (zashiki-bokko) from Iwate Prefecture looks like five-year-old kid with red cheeks and his presence brings good luck to the house. His leaving then means a leaving of luck, it is therefore better to tolerate his occasional childish pranks.
As usual, few people can see him (sometimes he leaves traces of his tiny feet in the ashes). Above all, they are children who, as we know, see a lot of things. However, he will never be seen by anyone who does not belong to the inhabitants of the house.
Illustration Ueda Akinari (上田秋成, Japanese, *1734, †1809) [Public domain], via Wikimedia Commons
19.6.2019 (14.3.2010)
---
Marishi-ten
Soldiers keep her picture under their helmets, though no one really knows how this Japanese goddess actually looks. Which does not prevent people from inventing it: She often has six hands, three heads (to see in all directions), and riding seven boars. She also has a sword, a bow and arrows.
She was born from the first sunbeam; she is invisible, but she listens and when she hears her worshiper, she gives him courage and great strength.
1.7.2019 (21.12.2008)
---
Zámecký sedlák (Castle Farmer)
I have two pieces of news. The good one first.
There is a treasure hidden in Zámecký vrch near Česká Kamenice, a town in north Bohemia.
Now the worse part of the information.
On the same hill the specter of a peasant farmer, a beardless old man in shorts, bright shoes and a blue cloak with a fur collar appears. If you — if you go looking for that treasure — get in the way of a pale face of the Castle Farmer, you can expect something unpleasant to happen in the near future.
9.7.2019 (1.2. 2004)
---
Sântoaderi
Sântoaderi haunt in Romania. At first glance they resemble young men; at second sight you will find that they are equipped with hooves. They appear in groups of seven, or — who would think — of nine. Wearing hoods on their heads. A nice conglomerate, especially when I add that when they appear, they sing and beat the drums, dancing and spreading diseases, especially rheumatism. Their main goal is girls, but these victims sometimes get the gift of beauty instead of illness. It only seems to me or is there a real connection with the Greek satyrs?
8.8.2019 (16.1.2011)
---
Huehuecoyótl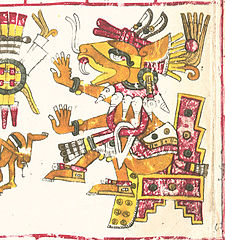 The "Ancient Coyote" is a truly ancient deity, even suspected of having served not only the Aztecs, but their predecessors. Which is not surprising for the patron of dance, music and uninhibited sex. The Coyote is a well-known creature in the southwest of North America, acting in the role of Trickster, the later rulers of the Basin of Mexico came from somewhere north, so it is possible that seven tribes, which later put together a well-known empire, brought Huehuecoyótl from there.
Ilustration by UnknownUnknown author (This image was created with Adobe Photoshop.) [Public domain], via Wikimedia Commons
14.8.2019 (21.10.2018)
---