Uwan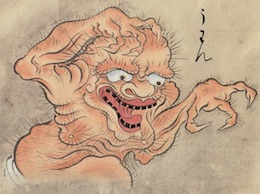 A bodyless voice that scares in abandoned Japanese homes and temples. Passers-by outside hear nothing, but the intruder's hearing is hit by a shrill scream.
Even though it is only an acoustic being, illustrators, such as Sawaki Suushi, have given him the appearance (and hence the body) for his purpose, so I can open this page of the Bestiary with an accompanying illustration from Suushi's Hyakkai-Zukan.  
Illustration by Sawaki Sūshi (佐脇嵩之, Japanase, *1707, †1772)
(scanned from ISBN 978-4-336-04187-6.) [Public domain], via Wikimedia Commons
12.4.2019 (23.9.2018)
---
Hadwabl
She haunted in the woods near Horní Slavkov near Loket, a town in West Bohemia. Once upon a time there was a castle in the forest, and its mistress hid her huge fortune in the dark forest. Later she began to watch its as a ghost. She was scaring away random as well as non-casual visitors. Her other appearance was the form of a little girl in red stockings, with a big key on a red tape and a coffer at her feet.
17.5.2019 (25.4.2010)
---
Hýkavý Martin (Braying Martin)
A figure of common Czech folktale, a one of misers who pushed the milestones at night. Most of them became fire spirits, but somebody ended up like Hýkavý Martin: wandering through the nights, screaming and halking on the back of the mockers. Martin, who haunted near Jankov, a village near Budweis, beside an usual ask: "Where do I give it," brayed like a donkey. Past present in previous sentence is absolutely fine, because once someone has finally advised him ("Where you took it.") and the spirit of the former local harpoon has been freed.
24.5.2019 (1.5.2010)
---
Ještědský duch
Ještědský duch (Jeschkengeist) is a genius loci of Ještěd Mountain in northern Bohemia. He used to be seen in the form of a great mountaineer with a hat and beard.
As the mountain is a place of many legends, Ještědský duch was not the only supernatural inhabitant of the region. The company read a number of revelations: elves, guarding gold and silver veins; a ghostly hunter, chasing a deer with a golden cross between antlers; occasional Wild Hunt; as well as annual Witches' Sabbath.
3.6.2019 (1.5.2010)
---
"Things just happen. What the hell."
Didaktylos*
* Terry Pratchett. Hogfather
Welcome to my world. For the longest time I couldn't think of right name for this place, so I left it without one. Amongst things you can find here are attempts of science fiction and fantasy stories, my collection of gods, bogeymen and monsters and also articles about things that had me interested, be it for a while or for years. (There is more of this, sadly not in English but in Czech, on www.fext.cz)





Pictures