Sherlockiana: Sherlock Holmes in Czech movies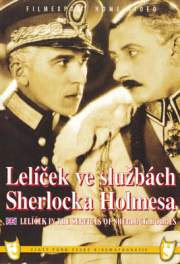 Sherlock Holmes was appearing on silver screen since the beginning of the 20th century and from that moment on, he had part in plethora of good, successful or mediocre movies and TV shows. The first one was short film Sherlock Holmes Baffled, which aired sometimes around the year 1903. Hound of the Baskervilles followed soon (German version in 1914).
In the twenties, Holmes was portrayed by Eille Norwood in then silent films. Most of the stories were filmed this way. To this day we have around two hundred films, television productions and series in all parts of the world.
How did Czechs assist?
Czechoslovak and Czech filmography isn't that extensive (unlike many radio plays).
First – and the most famous – Holmes movie is Lamač's Lelíček in service of Sherlock Holmes (1932), that uses the character of Great Detective as calm counterpart to crazy character of king's double. Because the Baker Street detective was well known, author and film-maker could focus on the main character. There is also French version (Le Roi bis 1932) from director Robert Beaudoin, where role of Vlasta Burian is played by Pierre Bertin, however Holmes is still Martin Frič.
Karel Lamač made also the Hound of Baskerville (Der Hund von Baskerville, 1936) with German actors for German production. An interesting story is tied to this film, it was one of the two movies found in Hitler's shelter. The second one was Der Mann, der Sherlock Holmes war (1937).
According to the musical novels of Ilja Hurník, another moving picture was made, now with real detective plot, Touha Sherlocka Holmese (Craving of Sherlock Holmes, 1971). A typical Czech tendency to parody things is apparent even here – the real ambition of Sherlock Holmes isn't solving the crime, but becoming violin virtuoso. This collides with cannon, because Holmes loved music and "being himself not only a very capable performer but a composer of no ordinary merit." [REDH].
Only ČST (Czechoslovak Television) dared to adapt canon story – The Adventures of the Creeping Man [CREE]; this wasn't random choice, because it's one of Holmes' Czech adventures. More famous A Scandal in Bohemia [SCAN] wouldn't be understood by many people. Czech addition – parodying – can be seen in the end, when the case is solved and it's time to go back to the London house on the Baker Street.
Summary of film and television holmesiads of Czech production
Canon stories
Šplhající profesor (Creeping Professor)
based on: The Adventures of the Creeping Man [CREE]
Sherlock Holmes: Viktor Preiss, Dr. Watson: Josef Somr
1992, 51 min, director: Zdeněk Zelenka
Prokletí rodu Baskervillů aneb Pozor zlý pes! (The Curse of the Baskervilles, or: Beware the Dog)
based on: The Hound of the Baskervilles [HOUN]
Sherlock Holmes: Radim Kalvoda (?), Dr. Watson: Hynek Čermák (?)
2004, 117 min, TV director: G. Skála
(recording of a play in Theatre in Celetná)
Other stories
Lelíček ve službách Sherlocka Holmesa (Lelíček in service of Sherlock Holmes)
Sherlock Holmes: Mac Frič
based on Hugo Vavris' novel
1932, director: Karel Lamač, story: Václav Wasserman
Touha Sherlocka Holmese (Craving of Sherlock Holmes)
Sherlock Holmes: Radovan Lukavský, dr. Watson: Václav Voska
1971, 97 min, director: Štěpán Skalský, story: Ilja Hurník
Arabela se vrací (Arabela's Return)
Sherlock Holmes: Radek Brzobohatý, dr. Watson: Ladislav Trojan
1993, director: Václav Vorlíček, story: Miloš Macourek
episodic Holmes' appearance in the sequel of popular TV series
Other suspicious stories
Únos bankéře Fuxe (Kidnapping of Banker Fux)
Sherlock Holmes (II.): Eman Fiala
1923, director: Karel Anton, story: Karel Anton, Eman Fiala
Situation comedy where one of the main characters is Sherlock Holmes II.
Brakýři (Scowrers)
based on: The Valley of Fear [VALL]
1983, director: Jiří Adamec, story: Jan Křtitel Sýkora
Two-part television mini-series that used second part of Valley of Fear, retrospective American story, and left out Holmes' case.
(last updated: 23.6.2017)